Stuart is just one of the clients to benefit from our Housing First programme.  Although committed to being an artist, he was in poor health, using drugs, accessing accident and emergency regularly and sleeping rough.  He had lacerations on his legs, that if weren't treated property would have resulted in amputation. Initially we visited Stuart at the sites he was sleeping rough and encouraged him to keep his wounds clean by accessing showers at the local day centres and accompanying him on regular visits to his general practitioner.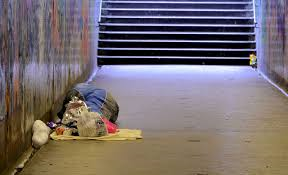 Thanks to personalisation funding, we were able to buy Stuart clean clothes, shoes and socks to help him keep his legs clean and a mobile phone so we could keep in touch whilst he was rough sleeping. We even took him to places to charge the phone so we wouldn't lose contact.
Developing a relationship of trust we were then able to encourage Stuart to receive treatment and support to tackle his addiction.  The next step was getting him settled in suitable accommodation.  Initially we visited or called him every day to check all was well and then dropped the level of support down to regular catch ups – meeting either at his new home, at the doctor's or somewhere in the local area.
Nine months since we first made contact with him Stuart is now living an independent and settled life.  He hasn't returned to the streets, his rent is paid, his legs are now almost fully healed and he is successfully managing his drug use, which has had a marked effect on improving his overall health and wellbeing.
Receiving support to move away from such a chaotic lifestyle has meant Stuart can concentrate on his art,  He has enjoyed success recently exhibiting his work through a London gallery.
The future is looking a lot more positive both for Stuart's health and his future career as an artist.
Listen to Stuart and Service Manager Carrie by clicking the image below.