I have worked with people labelled as homeless, ex-offenders, drug users, alcoholics and mental health service users since 1982, and in 2006 joined Two Saints.
As I settled in to the Newbury hostel I enjoyed working in a stimulating environment with clients who often have challenging behaviours.
After three years my team leader left and I was offered the post. This meant more responsibility managing shifts and getting the best out of my team. Fortunately by now, I knew all the policies and procedures and was able to apply them. The hostel ran like clockwork with residents regularly coming and going. I liked the client centred approach to the work that the organisation values.
Another role I had was managing the client resource room where we ran sports groups, residents meetings, Smart Move (our life skills programme), bike maintenance and core skills like reading and writing. Some clients did vocational training at college and one went onto graduate from Reading University in Care Management.
In 2014 I became the outreach worker engaging with rough sleepers and supporting them in the huge step of leaving the street and entering the hostel. This role is all about breaking down barriers and helping people prepare to move into accommodation. In a period of 12 months I helped 200 people to get off the streets in one way or another.
Twelve years of change in responding too peoples' needs, has shown me that I have skills that Two Saints and homeless people value. I am not very good at accepting praise, so still surprised at this. I am always astonished and grateful for the profound trust homeless people give me and I thank them for being brilliant teachers, helping me become who I am.
As I came into the office to write this article, one of our more complex residents reminded me of a time I had found him sitting on a bench in town. He had been drinking heavily, snow was falling noiselessly in the dark, and he was contemplating suicide. He said, 'You fetched your car, just told me to jump in and bought me up to the hostel for an emergency bed. I'll never forget that. I owe my life to you'. To me it was intense privilege be to in a position to do something so incredibly simple. You see, I too, was once in his position.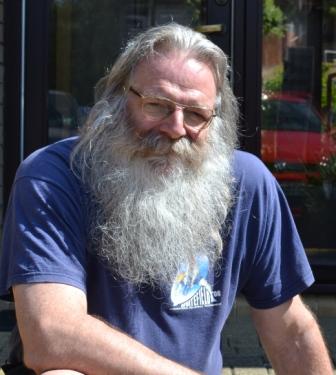 I helped 200 people in one year to get off the streets
Richard