Michelle
Michelle's journey began within Two Saints when she found herself a client in one of our hostels.  She'd been in addiction for the best part of 20 years and had most of her demons under control, although she was still using some substances.  Mortified to find herself in this position she promised herself that she'd turn it around.  Within two weeks of being in the hostel Michelle started volunteering with another organisation, but we provided support and gave encouragement when she doubted her abilities.  Within a short period of time Michelle moved into her own flat.  This was not initially successful but she was then fortunate to be able to move into another property where she lives today.
Michelle continued her volunteering and passed a health and social care substance misuse diploma level 3 and we helped her fund a level 3 counselling course and sourced the necessary equipment. She found employment part time at a hostel and worked there for a year but felt that it was time to bite the bullet and look for full time employment (this was a massive step).  Her next role was within a young people's service and 12 months later, when Two Saints won the contract, she was delighted to accept a role with us.  When the opportunity to move to a role in a large adult hostel, she found the team were very supportive and she learnt a lot of valuable information. This was a challenging role in a 56 bed hostel with chaotic clients and long shifts.
Michelle continues the story of her journey in her own words:
"One day I was asked if I would mind doing some cover work at the Day Centre in Southampton. I absolutely loved it and was asked if I'd like to work there full time – I couldn't believe it and nearly bit their hand off!   I'm now a support worker, manning reception and can see up to 100 people a day, each with their own personal struggles.
I hold groups here such as at Halloween when we do quizzes, pumpkin carving etc. and we've had bingo at Christmas and at Easter. I'm currently working on a new group for veterans and have been handing out my leaflets to promote this. I've also helped out on charity events to help raise awareness of homelessness issues.
I work closely alongside other agencies to find the right support for clients, one in particular was a young pregnant ex-service woman who had found herself homeless.  I had no idea at the time that services such as Veterans Aid even existed and it took me two days to find out the information I needed. The last time I had an update they had housed her and she'd had a baby boy.
Working for Two Saints has been an epic journey so far and I feel so fortunate to work alongside an amazing team here at the Day Centre. Giving back and helping others who are where I once was is an amazing feeling and I'm hoping that I can continue to do this at Two Saints for as long as possible.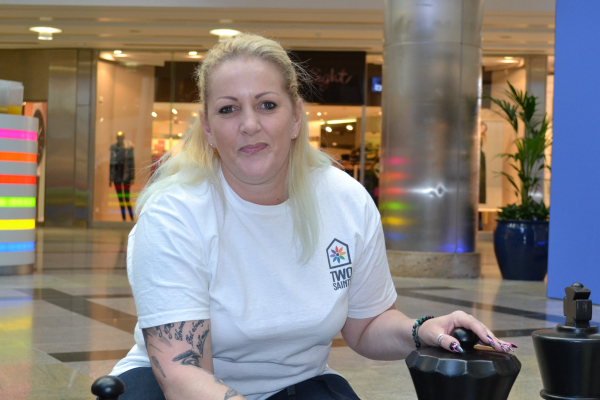 Working here has been an epic journey and I'm hoping I can do this for as long as possible.